High-Quality Services
EQUIPMENT REPAIR SERVICES

We know how essential it is for your equipment to function 100% as expected, without unwelcome "surprises" that add to your costs, hinder your schedule, and potentially damage your reputation. That's why the members of our Service and Repair Department Team are trained experts in the use, care and maintenance of the equipment that you use every day – equipment that simply has to work as expected.

CUSTOM STEEL FABRICATION

We're a provider of precision metal fabrication services. We offer customers cost-effective fabrication solutions by combining our utilization of advanced technology to produce quality products, on-time and to specification.
Professional Equipment Installation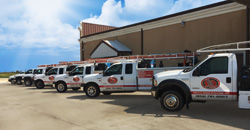 We have 24 hr. emergency service, experienced crews and fully equipped service trucks on the road to service and maintain our equipment and our competitor's equipment and to install our products.
We have inside sales personnel as well as outside sales personnel to come directly to your facility to solve your materials handling and door needs.
We work closely with our manufacturers and have their technical support as

well as their years of experience to assure you are getting the best possible service and solutions.
Services List
Industrial Door Service & Repair
Loading Dock Leveler Service & Repair
Product Upgrade Solutions
Dock Seal & Shelter assessment
Planned Maintenance Program
Custom Steel Fabrication